DINNER MENU CAMBRIDGE
Details

Hits: 733919
  BACK HOME   |  ORDER ONLINE  |  GIFT CERTIFICATES  |  RESERV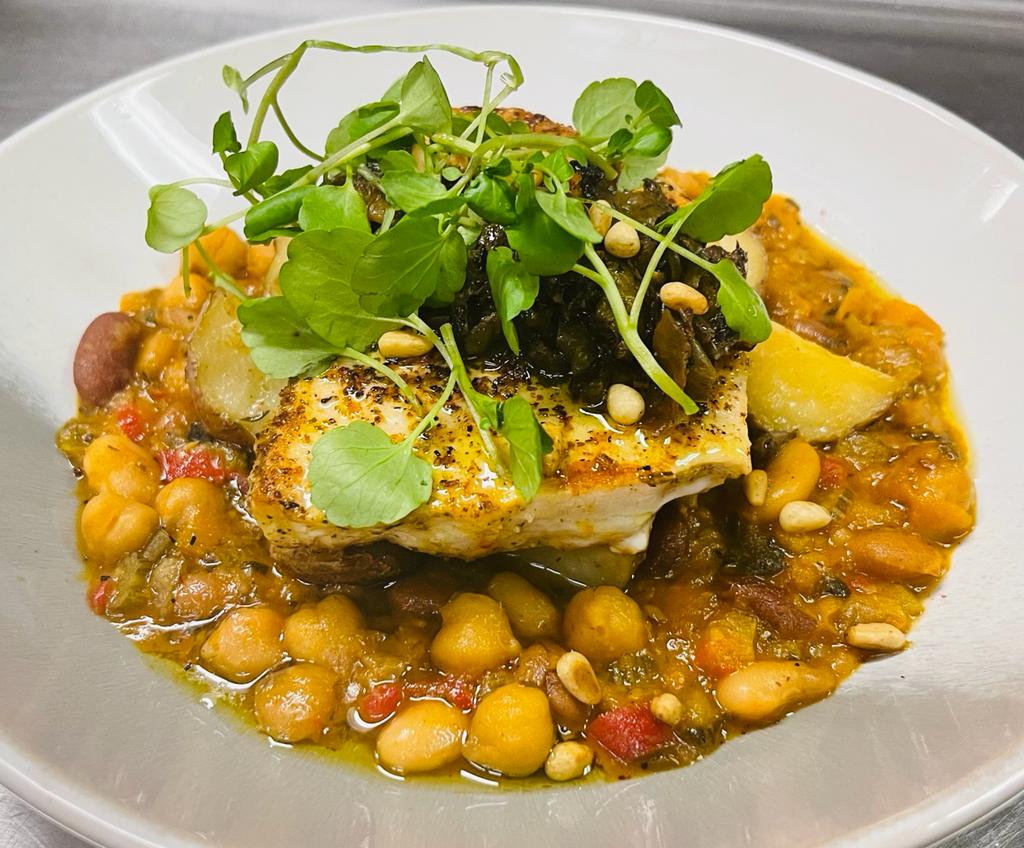 CHULETAS DE CORDERO*(GF) -17 | GRILLED LAMB CHOPS, HAZELNUT & ALMOND ROMESCO, MINT SALSA VERDE, ARUGULA
---



GUSTAZO CUBAN KITCHEN & BAR

 – CAMBRIDGE 




This email address is being protected from spambots. You need JavaScript enabled to view it.

855-GUSTAZO(487-8296)
Chef & Owner: Patricia Estorino 
Director of Operations: Kevin Chandley
Chef de Cuisine: Todd Alsworth
General Manager: Frank Bratica


For all Catering, Private Event, or Large Party Reservation inquiries please contact - 

This email address is being protected from spambots. You need JavaScript enabled to view it.


For all Questions, Reservation Requests, or Reservation Inquiries for parties between 6-15 guests please contact - 

This email address is being protected from spambots. You need JavaScript enabled to view it.





FOOD & DRINKS MENU

 

KITCHEN HOURS FROM 5:00PM TO 9:30PM (WED,THUR,SUN), 5:00PM TO 10:30PM (FRI,SAT) 
A 20% GRATUITY WILL BE ADDED TO ALL PARTIES OF 6 GUESTS OR GREATER. 



SCROLL DOWN FOR FOOD MENU



COCKTAILS 

GUSTAZO ORIGINALS 
-GUAVA BLOSSOMS $13 / GIN, ELDERFLOWER, GUAVA, LEMON
-SPICE & SMOKE $13 / MEZCAL, ANCHO REYES, GRAPEFRUIT & JALAPENO SHRUB, LIME
-SANTIAGO SOUR $14 / BOURBON, MINT SYRUP, LEMON, EGG WHITE, RED WINE
-RAISIN THE BAR $15 / HOUSE RAISIN RUM, FINO SHERRY, CARPANO ANTICA, RYE, ORANGE BITTERS, ANGOSTURA BITTERS
-CUBAN CIGAR $14 / AGED RUM, SCOTCH, AMARO, SHERRY, CIGAR RUM, BITTERS
-GOLDEN SANDS $14 / PRIVATEER WHITE RUM, AGED CACHACA, MANGO, FRESNO CHILLI, LIME
-WHITE LIME MARTINI $14 / VODKA, ORGEAT, LIME, EGG WHITE FOAM
-CUBAN MARGARITA $14 / JALAPENO/HABANERO INFUSED TEQUILA BLANCO, APEROL, AGAVE, GUANABANA, LIME, ORANGE, FIREWATER TINCTURE 
ALL TIME CLASSICS

-HEMINGWAY DAIQUIRI $13 / WHITE RUM, LUXARDO, GRAPEFRUIT, LIME
-MOJITO $13/ WHITE RUM, MINT, LIME & SODA (MAKE IT MANGO, GUAVA, PINEAPPLE, GINGER, COCONUT, ADD $1)
-HOTEL NATIONAL $14 / AGED RUM, PINEAPPLE, APRICOT, LIME....One of the signature drinks at Havana's Hotel National de Cuba
-PALMETTO $13 / AGED RUM, SWEET VERMOUTH, ORANGE BITTERS... A Rum Manhattan from the 1930's
-OLD CUBAN $13/ AGED RUM, MINT, SUGAR, LIME, BUBBLES...A favorite Cuban classic
-SEASONAL SANGRIA $14 / ASK YOUR SERVER ABOUT TODAY'S SELECTION


MOCKTAILS $9

-SMOKEY CUBAN / LAPSANG SOUCHONG TEA, CINNAMON, BITTERS, TOBACCO SPRAY
-COCONUT MARTEANI / COCONUT CREAM, GREEN TEA, LEMONGRASS
-NO-JITO / MINT, LIME & SODA (MAKE IT MANGO, GUAVA, PINEAPPLE, GINGER, COCONUT, ADD $1)

WINE LIST



BY THE GLASS

 

WHITE 


-FINCA ARANTEI | ALBARIÑO  | RIAS BAIXAS, SPAIN 13/49
-MASSAYA BLANC | BLEND | BEKAA VALLEY, LEBANON 15/56
-ANEMOS | MOSCHOFILLERO/RODITIS | PELOPONESE, GREECE 12/45
-OSSIAN QUINTALUNA | ORGANIC VERDEJO | CASTILLA, SPAIN | 15/56
-FORGE CELLARS CLASSIQUE | DRY RIESLING | SENECA LAKE, NY 14/52   



ROSÉ

 & SPARKLING

-CHATEAU PARADIS ROSE | SYRAH/GRENACHE/CS | PROVENCE, FRANCE  13/49
-SANROSE "ZERO"  | SPARKLING  ROSE  | ORGANIC SANGIOVESE | ITALY 12/44

RED

-LI VELI "ASKOS" | SUSUMANIELLO | SALENTO,  ITALY |15/56
-PASIóN DE BOBAL | ORGANIC BOBAL | VALENCIA, SPAIN | 12/43
-CLOS DE LUZ "AZUDA" | GARNACHA | CACHAPOAL VALLEY, CHILE | 15/56
-BONNY DOON  "LE  CIGARE  VOLANTE" | ORGANIC BLEND | CALIFORNIA | 12/43
-SEÑORIO DE P. PECINA CRIANZA | TEMPRANILLO | RIOJA, SPAIN  15/56



 




BY THE HALF BOTTLE 



-GRGICH HILLS NAPA VALLEY CHARDONNAY | CALIFORNIA 34
-GUIGAL COTES DU RHONE | FRANCE 22
-BODEGAS MUGA RESERVA RIOJA | SPAIN 24
-CANARD-DUCHENE CHAMPAGNE BRUT AUTHENTIC | FRANCE 32
-BILLECART SALMON BRUT ROSE | FRANCE 60


BY THE BOTTLE 

WHITE 



-

ALOIS LEGEDER "PORER" | PINOT GRIGIO | ALTO ADIGE, ITALY  52
-QUINTA DE SANTIAGO | BLEND |  VINHO VERDE, PORTUGAL 39
-EVA FRICKE ORGANIC  VINHO VERDE | RIESLING | RHEINGAU, GERMANY  49 
-ABRAXAS VIN DE TERROIR | RIESLING, PINOT GRIS, PINOT BLANC | CALIFORNIA  54 
-VIÑA ZORZAL | GARNACHA BLANCA | NAVARRA, SPAIN 39
-BENAZA | GODELLO | MONTERREI, SPAIN 42
-BODEGAS AVANCIA | GODELLO | VALDEORRAS, SPAIN 47
-"LA MAREA" KRISTY VINEYARD | ALBARIÑO | MONTERREY COUNTY, CALIFORNIA 59
-VAL DO SALNES ZARATE | ALBARIÑO | SPAIN 45  
-CHATEAU MEGYER TOKAJI | FURMINT | HUNGARY  46
-BODEGAS MUGA RIOJA BLANCO | RIOJA, SPAIN 58
-VINOMI ORGANIC | XARELO AND XARELO ROJO | PENEDES, SPAIN 42  
-SAINT BRIS LE VINEAUX | SAUVIGNON BLANC | BURGUNDY, FRANCE 56
-HONIG | SAUVIGNON BLANC | NAPA VALLEY, CALIFORNIA 50
-EAST SIDE VINEYARDS "PEDRONCELLI" | SAUVIGNON BLANC | CALIFORNIA 42
-ALPHONSE DOLLY | SANCERRE | LOIRE VALLEY, FRANCE  79  
-MANOUSAKIS WINERY "NOSTOS" | ASSYRTIKO | CRETE, GREECE 66
-DOMAINE ZAFEIRKIS TYRNAVOS | MALAGOUSIA  | THESSALIA, GREECE 52
-DAUTEL WEISSBERGUNDER | PINOT BLANC | WIRTTEMBERG, GERMANY 42
-CHATEAU DE LASCAUX, GARRIGUE LANGUEDOC BLANC | BLEND | FRANCE 45 
-DOMAINE DE BELLENE SAVIGNY LES BEAUNE | CHARDONNAY | FRANCE  78 
-KISTLER LES NOISETIERS SONOMA COAST | CHARDONNAY | CALIFORNIA 99
-GERALD TALMARD MACON | CHARDONNAY | BURGUNDY, FRANCE  39
-LA CHABLISIENNE |CHARDONNAY | BURGUNDY, FRANCE  65
-TRUE MYTH | CHARDONAY | EDNA VALLEY, CALIFORNIA 40
-LE P'TIT PAYSAN | CHARDONNAY | MONTERREY COUNTY, CALIFORNIA  54  



ROSE & SPARKLING



-GELIDA BRUT GRAN RESERVA | SPAIN 42
-CHATEAU PARADIS COTEAUX ROSE | Aix-en-Provence, FRANCE  42
-CHATEAU MINUTY "M" ROSE | FRANCE 42
-BOHIGA BRUT CAVA RESERVA | CAVA, SPAIN  36
-TXOMIN ETXANIZ GETARIAKO ROSE | TXAKOLINA, SPAIN 39
-CANARD-DUCHENE BRUT | CHAMPAGNE, FRANCE
-CLETO CHIARLI LAMBRUSCO DEL FONDATORE | ITALY 38
-DOMAINE GLINAVOS PALEOKERISIO ORANGE WINE | ZITZA, GREECE  45

RED

-OLIVARES ALTOS DE LA HOYA | MONASTRELL | MURCIA, SPAIN 45
-BAILEYANA WINERY | PINOT NOIR | EDNA VALLEY, CALIFORNIA  45
-CHATEAU LYONNAT LUSSAC ST EMILION| MERLOT | BORDEAUX, FRANCE 52
-INAMA | CARMENERE PIU | COLLI BERICI, ITALY 42
-KUMEU RIVER "KUMEU VILLAGE" | PINOT NOIR | NEW ZEALAND 45
-NAVAHERREROS GARNACHA DE BERNABELEVA | GARNACHE | SPAIN 45
-SANDRONE DOLCETTO D'ALBA | DOLCETTO | PIEDMONT, ITALY 45
-CHATEAU DE MONTMAL FITOU | BLEND | LANGUEDOC-ROUSSILLON, FRANCE 54 
-DESCENDIENTES DE JOSE PALACIOS "PETALOS" | MECIA | BIERZO, SPAIN 48
-QUINTA DO VALLADO DOURO | RED BLEND | DOURO VALLEY, PORTUGAL 50
-MARIETTA CELLARS ARME CABERNET SAUVIGNON | CALIFORNIA 56
-CHATEAU TOUR BAYARD  | MERLOT/CAB FRANC | BORDEAUX, FRANCE 48
-FINCA DECERO THE OWL & THE DUST DEVIL | MALBEC BLEND | ARGENTINA 63
-SIERRA CANTABRIA "UNICA" RESERVA | RIOJA, SPAIN 60
-MAS DOIX LES CRESTES | GARNACHA | PRIORAT, SPAIN 54
-LINGUA FRANCA AVNI | PINOT NOIR | OREGON 80
-TURLEY OLD VINES | ZINFANDEL |CALIFORNIA 75
-DOMINIO DE PINGUS "PSI" | TEMPRANILLO | RIBERA DEL DUERO, SPAIN 70
-BRENDEL WINES | ORGANIC CABERNET SAUVIGNON | NAPA VALLEY, CALIFORNIA 90
-BOUCHARD  "BAUNE DU CHATEAU" | PINOT NOIR | BURGUNDY, FRANCE 90
-BODEGAS MUGA RIOJA TORRE MUGA|SPAIN 120

BEER
DRAFT




-CAMBRIDGE BREWING COMPANY REMAIN IN THE LIGHT AMERICAN LAGER 5% MA | 16oz | 9
-3 FLOYD'S ZOMBIE ICE PALE ALE 8.5% IN | 16oz | 9
-MAINE BREWING CO. LUNCH IPA 7% ME | 16oz | 12
-CAMBRIDGE BREWING COMPANY AMBER ALE 4.7% MA | 16oz | 7.5
-OFFSHORE ALE LAZY FROG IPA 7% MA| 16oz |9
-NOTCH SESSION SESSION PILSNER 4% MA | 16oz |7.5



BOTTLES & CANS





CIDER


-DOWNEAST CIDER "WINTER CIDER" 5.1% MA | 12oz | 9
-ACE "GUAVA" CIDER 5.0% CA |12oz | 9



REFRESHING


-CIGAR CITY "GUAYABERA" PALE ALE 5.5% FL | 12oz | 7
-TOPPLING GOLIATH "PSEUDO SUE" PALE ALE 5.8% IA | 16oz | 9
-MIGHTY SQUIRREL "DEAR KELLY" IPA 7.2% MA | 16oz | 12
-MIGHTY SQUIRREL "DEAR MINO" IPA 7.2 MA | 16oz | 12



BELGIAN STYLE


-ALLAGASH WHITE 5.2% ME | 16oz | 9 
-JACK'S ABBY "BLOOD ORANGE WHEAT" 4.0% MA | 16oz | 9



IPA


-CIGAR CITY "JAI ALAI" 7.5% FL | 12oz | 7.5|
-SIERRA NEVADA "HAZY LITTLE THING" 6.7% CA | 12oz | 7.5
-STONEY CREEK "BIG CRANKY" 9.5% CO | 16oz | 8 

BROWN & DARKER
-NEW BELGIUM "FAT TIRE" AMBER ALE 5.2% CO | 16oz | 8
-FOUNDER "BREAKFAST STOUT" 8.3% MI | 12oz | 9
-EXHIBIT A "BRIEFCASE PORTER" 5.4% MA | 16oz | 

10


-SAMUEL SMITH'S OATMEAL STOUT 5% U.K | 12oz | 9
-STONE BREWING "BUENAVUEZA" SALT & LIME LAGER 4.7% CA | 12oz | 7

NON-ALCOHOLIC BEERS 

-ATHLETIC BREWING "RUNNING WILD" IPA CT| 12oz| 

7

 
-HEINEKEN 0.0 | 12oz | 

7



NON-ALCOHOLIC BEVERAGES

-SODA | 

3


-PINEAPPLE JUICE | 

4


-HIBISCUS SPARKLING LEMONADE | 

8


-NON-ALCOHOLIC MOJITO OR MANGO MOJITO | 

8/9





----DINNER MENU----



** Before placing your order please inform your server if a person in your party has a food allergy**   



VEGETARIAN SMALL PLATES


 
ACEITUNAS ALIÑADAS(GF)(VG) -7.5 | SPANISH MIXED OLIVES, MARCONA ALMONDS, POMEGRANATE MOLASSES, ORANGE, MINT
AJICITOS (GF)(PVG) -10 | GRILLED CACHUCHA PEPPERS, ROASTED GARLIC AIOLI, GUSTAZO SPICE MIX, NIGELLA SEEDS, LEMON, SEA SALT
GARBANZOS CON ESPINACA -11 | GARBANZO BEANS, SMOKEY ALMOND SOFRITO, BABY SPINACH, BROWN BUTTER MIGAS (PGF)
YUCA FRITA(GF)(PVG) -11 | FRIED YUCA, TRUFFLE OIL MOJO, CILANTRO AIOLI, TRUFFLE ZEST
HUMMUS DE FRIJOLES NEGROS (GF)(VG) -13 | CUBAN-STYLE BLACK BEAN HUMMUS, CRUDITES, PLAINTAIN CHIPS
ENSALADA DE REMOLACHA(GF)(PVG) -14 | ROASTED HEIRLOOM BEETS, QUESO FRESCO, WATERCRESS, TARRAGON-HAZELNUT PESTO, YOGURT, KUMQUATS
QUESO FRITO (GF) -14 | SEARED WHITE CHEESE, AGAVE, CARAMELIZED RAINBOW CARROTS, GRILLED BROCCOLINI, CANDIED WALNUTS
CAZUELA DE COLIFLOR ASADA(GF) -14 | ROASTED HEIRLOOM CAULIFLOWER, THYME, MANCHEGO CHEESE, PISTACHIOS, SPICY SMOKED PAPRIKA
SMALL PLATES 
MADUROS CON TOCINO(GF) -8 | SWEET PLANTAINS WRAPPED IN BACON, WHIPPED FETA, SPICED AGAVE, JICAMA, SNOW PEAS, BABY KALE, MANDARINQUATS
CROQUETAS DE JAMON -9 | SERRANO HAM CROQUETTES, BLACK GARLIC AIOLI
JIBARITO(GF) -10 | SLOW ROASTED PORK, SMOKED HAM, GRUYERE,  PICKLES & DIJON MUSTARD ON TOSTONES
EMPANADAS -12 | GROUND BEEF, SOFRITO, FLAKY PASTRY DOUGH, MULTISEED MIX
CHICHARRONES(GF) -16 | BERKSHIRE PORK BELLY, MOJO GLAZE, AVOCADO PUREE, CARAMELIZED SOFRITO
COSTILLAS A LA GUAYABA(GF) -16 | GUAVA GLAZED BABY BACK RIBS, HEARTS OF PALM AND PINEAPPLE PUREE, PICKLED BEETS, ROASTED PEANUTS

SMALL PLATES FROM THE SEA

CEVICHE(GF) (A SERVER FOR TODAY'S CEVICHE) -MP
TACOS DE CANGREJO(GF) -16 | JONAH CRAB ENCHILADO, YOGURT SLAW, GRILLED CORN, AVOCADO, PLANTAIN TACO SHELLS
COCKTAIL DE CAMARONES(GF) -19 | LATIN-STYLE SHRIMP COCKTAIL, AVOCADO, SWEET PEPPERS, CELERY, GRILLED PINEAPPLE, SHIRODASHI, TOMATO SAUCE
PIQUILLOS RELLENOS -16 | HALIBUT SUFFED PIQUILLO PEPPERS, BROWN BUTTER-CARROT PUREE, ALMONDS, CROUTONS
MEJILLONES CON CHORIZO(PGF) -18 | LOCAL MUSSELS, SPANISH CHORIZO SAUCE, SCALLIONS, GRILLED BREAD
PULPO(GF) -19 | GRILLED OCTOPUS, CONFIT POTATO PUREE, GRILLED ASPARAGUS, OLIVES, CONFIT CHERRY TOMATOES, FRESH HERBS
CAMARONES A LA PLANCHA(GF) -18 | CUBAN-STYLE SHRIMP AND GRITS, GRILLED CORN, CHERRY TOMATOES, CRISPY QUINOA
CHULETAS DE CORDERO*(GF) -17 | GRILLED LAMB CHOPS, HAZELNUT & ALMOND ROMESCO, MINT SALSA VERDE, ARUGULA



LARGE PLATES

 



PUERCO ASADO(GF) 

-26 | SLOW ROASTED PORK, CARAMELIZED ONIONS, CONGRI RICE,  MADUROS, WATERCRESS


FRICASE DE POLLO(GF) -26 | BRAISED CHICKEN THIGHS, MARCONA ALMONDS, GOLDEN RAISINS, OLIVES, CARROTS, WHITE RICE, MADUROS
ARROZ CON POLLO(GF) -28 | PAN ROASTED HALF CHICKEN, SAFFRON RICE, ROASTED BABY HEIRLOOM CARROTS, SOFT BOILED EGG, MADUROS
RODABALLO CON ALMEJAS (GF) -36 | PAN SEARED HALIBUT, COUNTNECK CLAMS, SHRIMP BROTH, GREMOLATA, CHERRY TOMATOES, JASMIN RICE (GF)
ROPA VIEJA(GF) -25 | SHREDDED FLANK STEAK IN A DELICATE TOMATO SAUCE, RED PEPPERS, RICE, BLACK BEANS, MADUROS
ROPA VIEJA DE HONGOS (GF)(VG) -25 | MUSHROOMS ROPA VIEJA W/ SHIITAKE AND PORTOBELLO, MUSHROOMS, SOFRITO, RICE, BLACK BEANS, MADUROS
PALOMILLA*(GF) -42 | GRILLED PRIME RIBEYE, GRILLED PINEAPPLE CHIMICHURRI, SWEET PIQUILLO CREMA, CONGRI RICE, MADUROS
 (gf)gluten free (pgf) can be made gluten free (vg) vegan (pvg) can be made vegan
*This item may be ordered undercooked. Consuming raw or undercooked meats, poultry, seafood, shellfish or eggs might increase your risk of food-borne illness.
 -SIDES- Plantain Chips with Cilantro Sauce 5/ Maduros 6/ White Rice 3/ Congri Rice 4.5/ Black Beans 4 
DESSERTS

CHOCOLATE CIGAR |Smoked tea infused chocolate cigar, tuile, mascarpone, sour cherries, dulce de leche ice cream |15
FLAN (gf) |Traditional Cuban egg custard w/ caramel |5 (Add coconut |1)
CHURROS CON CHOCOLATE |Churros, bittersweet chocolate ganache, red pepper flake |8
TRES LECHES CAKE |Three milks soaked cake, curdled Dulce de Leche, coconut in syrup, flambéed meringue, fresh fruits |10  


DESSERT WINES & SPIRITS

AMARI
-BULLY BOY |14
-AMARO AVERNA |12
-FERNET BRANCA |10
-AMARO MONTENEGRO |13

PORT/MADEIRA
-RAMOS PINTO 10YR TAWNY PORT | PORTUGAL 12
-RAMOS PINTO RUBY PORT | PORTUGL 12
-SANDEMANS RAINWATER MADEIRA | PORTUGAL 9
-SANDEMANS FINE RICH MADIRA | PORTUGAL 10

SHERRY
-BODEGAS DIOS BACO PEDRO XIMENEZ SHERRY | SPAIN 13
-LUSTEAU DON NUNO DRY OLOROSO SOLERA RESERVA SHERRY | SPAIN 15
-ALVEAR MONTILLA-MORILES PEDRO XIMENEZ SOLERA 1927 SHERRY | SPAIN 15

There will be a 4% Kitchen Appreciation Fee added to your bill, which is paid directly to our  kitchen staff. 
This charge is in addition to being paid livable wages and is used to help us impact the wage differential that
has become the "norm"  between Front of the House and  Culinary teams. Your contribution is greatly appreciated
and goes a long way in  helping us ensure the quality of life of our hardworking culinary team members.. 

Please do not hesitate to inquire with management if you have additional questions or wish not to participate.